Tiki Bar 1.0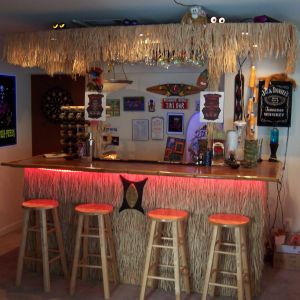 It looked like Mike and I were actually going to do this; somehow we'd gotten the idea past our other roommate (Christina) so all we needed was a design. I started looking at easy to use 3D packages that I could put a design together in and finally grabbed something called Design Workshop Light. I put the design together in that and showed it to Mike. He approved and I put together a list of construction materials we would need. I wish I still had the Design Workshop file, but sadly it got lost somewhere along the way - probably to a hard drive crash of some sort.
I'd only designed one other piece of furniture in my life and that was a computer desk at my Dad's house. I wasn't really familiar with the concept of framing at the time - my design for V1 consisted almost entirely of plywood and bamboo we scavenged from a National Park. If you're familiar with furniture construction, you'll know that a lack of framing can be problematic. It was especially problematic because we purchased 1/2" plywood and some ridiculous length screws...like 2" or so. This present a problem when you're trying to screw 2 pieces of 1/2" plywood together. An inch of sharp screw ends up sticking out the other side. We came up with several exciting solutions to the problem. One was to use scrap pieces of plywood as extra layers behind the 2 pieces of plywood and screwing into them as well. When we ran out of scrap plywood, we just hammered the exposed screw down to a 90 degree angle so that it wasn't sticking out anymore.
Version 1 of the Tiki Bar saw a lot of exciting developments: The first "Freaky Tiki Hallowiki" halloween party which has become an annual tradition, the addition of a stemware rack, which due to the fact that the most subtle saw I owned at the time was a circular saw, was described by some kind people as "having character", and by some honest people as "ass ugly", at least one "Tiki Romance", and many great parties filled with drunken antics.
After three years of enjoyment, the time had come to move to a new Apartment so I decided it was time to build a new, better Tiki Bar. Hence was born Tiki Bar 2.0