Tiki Bar 2.0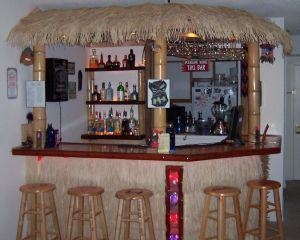 The design process for Tiki Bar 2.0 began immediately upon deciding to move to a new apartment. Dismantling and moving Tiki Bar 1.0 was never really an option I took seriously. I'd learned alot about furniture construction over the years, and I was looking forward to a new bar with better designed storage space. Tiki Bar 1.0's design suffered a lot from "dead space" in the corners, the kind of space that people tend to put lazy susans in when they occur in kitchen cabinets.
Tiki Bar 2.0 offered several improvements over Tiki Bar 1.0: an angled corner instead of a sudden ninety degree corner helps avoid dead space in the shelving, real bamboo roof supports - much more attractive than the 2x4s of 1.0, sexy bamboo shelving in the back putting some of the bar's prettier bottles on display (all of 1.0's liquor was hidden on shelves behind the bar), a built-in computer to provide lighting controls, run the Drink-o-Tron 3000 and to provide Wikipedia acess to settled drunken trivia bets. Other improvements include two columns of glass block built into the front of the bar, lit from behind by computer-controlled RGB LEDs, and generally just a lot more space: shelf space and bar surface.
The construction of Tiki Bar 2.0 burned up approximately $1500.00 and several months of my life. My friend Jeff went through a nasty break-up right around the time I started building the bar. He 'jokes' with people that he replaced his girlfriend with building the bar, but he's not really joking. He put in nearly as much time as I did and we made a mutual decision to not keep track of just how much time that is. Cause it's scary. Construction began soon after I got back from my honeymoon, probably sometime in August, and didn't really wrap up until just in time for the 2007 Freaky Tiki Hallowiki. Construction never really ends for the Tiki Bar though - we're always thinking of some improvement to make. Next up for the bar, was the Wall of Shots.
Pictures